Concept Union - shows
- List of shows at the Concept Union 1996-2001
Concept Union Interview Project
An annotated Concept Union Bibliography
Early History of the Concept Union
The Concept Union is a diverse community of artists. We vary widely in age, nationality, and style. The artists form the central core of active members of the Union, and serve as our Board of Directors. We refer to these artists as Fellows of the Concept Union, and they oversee the operations of the space as well as using it to create their art. - from an early WHCU press release

THE GROUP
We were a group of artists who had worked together in various combinations over the span of about four years. We staged events around the city of Atlanta under the name Eight Steps to the Beat (Marching). About a year into the mayhem (circa 1996) we set out on a quest for a space where we could gather to work and exhibit on a larger scale.

OUR FIRST HOME
For more than a year, we inhabited one section of a historic building in Decatur, Georgia. It was the first Scottish Rite Hospital in America, built around 1920. In those days the best medicine was considered to be fresh air and lots of it. The hallway along the front of the building was open to the elements until around 1930, when it was enclosed with windows. In the late '70's, the property was turned over to the Board of the Community Center, and has remained under their supervision ever since. In 1997, after a great deal of cleaning and restoring, we moved into the building and adopted the moniker "West Hill Concept Union". The space included both studio and gallery space, as well as a venue for performance art. After numerous shows and events, it was time to move on...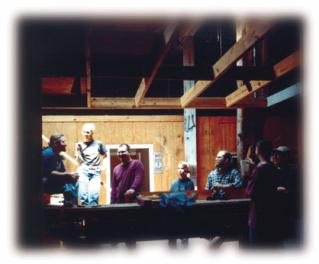 Artist Fellows of the Concept Union included
THERESE AUN
JAY HITT
CHRIS JARRETT
KAREN KIMBLE
JIM MILFORD
PETRA V. MATERN RUSSELL
JENNIFER AND A.J. SINGLETON
JANEEN WHITNEY

In addition, we had several Fellows-at-Large, which included those who had taken leave of the Union to follow pursuits outside the Atlanta area and artists from around the nation who affiliated with our work.
ALEC BADENOCH
JOSH HARRELL
M. KATHERINE MACKINNON