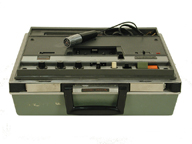 The Interview Project is an ongoing (albeit sporadic) attempt to document the art and artists associated with the now-defunt Concept Union.
Interviews are conducted by David Dault on a 3M/Wollensak tape deck onto standard cassetes and converted to MP3 format for web listening. The files are monaural and highly compressed, but still rather large. It is recommended that you have a good, high-speed connection to access them.

In keeping with the overall artistic ethos of the Concept Union, I attempt as much as possible to speak with the artists in comfortable environements. In other words, these interviews do not occur in a studio, but rather in spaces where other activities and ambient sounds intrude and intermingle with the voices (an approach very much inspired by John Cage's work "Indeterminacy" ).

To date, I have not conducted anywhere near the number of these I had wished to. Time permitting, I hope to get back to the project in the Fall of 2004.

---
Josh Harrell - (14 July 1999 - in 2 parts - approx. 60 minutes total) Josh is now a graduate of the USC film school and specializes in animation. In this interview, recorded on the back porch of the downtown Concept Union, ranges in topic from the multi-generational artistic influences he draws from to his experiments with early video art. Meanwhile trains and traffic are heard in the distance.